Interview by Renée
Artwork: Blackbriar/ Alpino Alip Hudaya
Pictures: Renée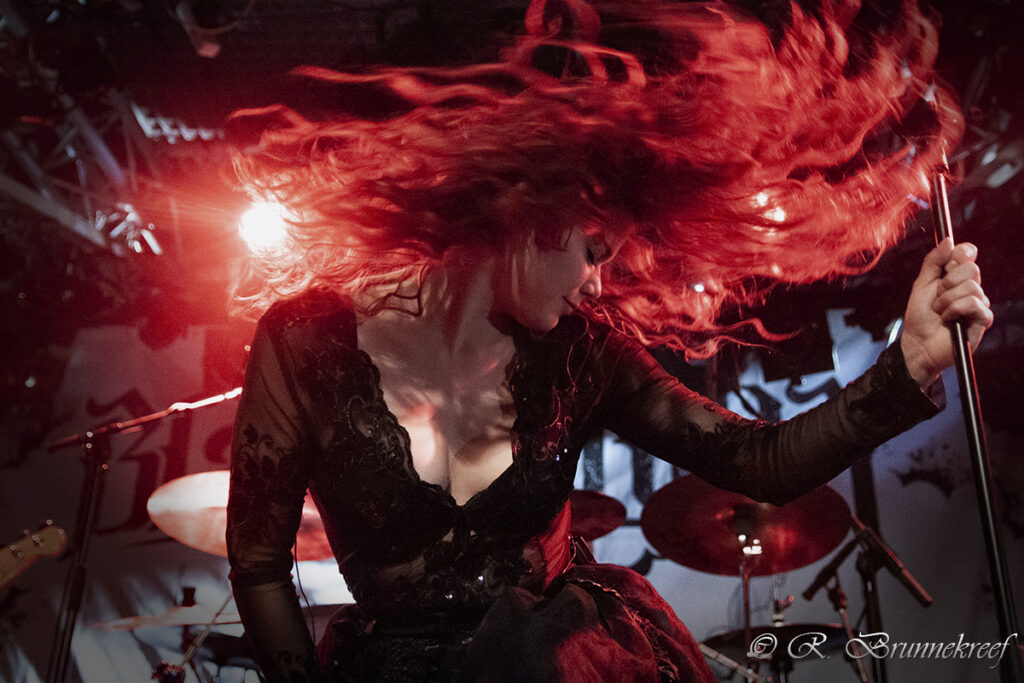 We felt so grateful when we reached this goal in less than 24 hours! We felt appreciated and it was a confirmation that fans loved to receive more of our music. That's why we do it.
Blackbriar had a really succesfull crowdfunding-campaign. Artist are able to collect money for new projects, like recording new songs, making new videoclips or being able to print a new physical album, through crowdfunding.
Blackbriar was collecting money for a special occasion: The debut- album 'The Cause of Shipwreck'. The first album in Blackbriar's history!
Blackbriar's crowdfunding campaign was a huge success. They reached their goal in less than 24 hours!
Because of the succes they decided to add stretch-goals so they are able to create more nice stuff. If the new stretch-goals were succesfull as well, they were able to make another videoclip. Or being able to organise a second print of the single 'Snow White and Rose Red' and add it to the physical orders of 'The Cause of Shipwreck'. As an extra gift for their supporters. This stretch-goal is special, because fans weren't able to buy a physical copy of 'Snow White and Rose Red' (first print) because it sold out.
Blackbriar reached five of their stretch-goals. The band showed their appreciation for the engagement of the fans through social media posts. In the end Blackbriar reached 278% of their initial goal. The campaign ended at the end of November 2020. Fans needed to be patient for the new album. The release-date is the 23th of April 2021.
Luckily the band had some surprises while waiting for the album-release. First the release of the new song and videoclip of 'The Séance'. Soon after that the song 'Deadly Diminuendo' was released and a special video for 'Selkie' was out on the 9th of April.
Blackbriar is well known for their story-telling videoclips. They came up with an atmospheric and a bit of creepy video for 'The Séance'.
A good reason for an interview with all the releases going on.
The new album 'The Cause of Shipwreck'.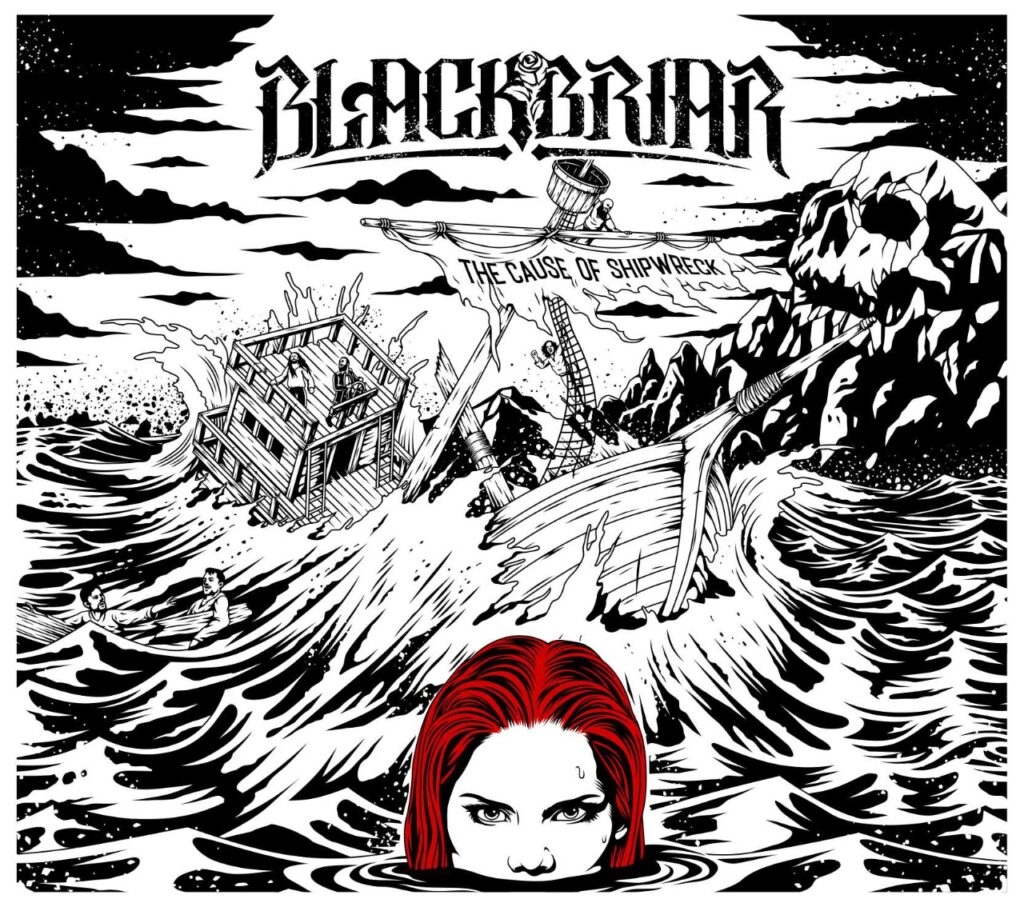 We worked so long towards this album and we received so much love and appreciation from our fans already. So this made it already special, even before it's release!
Did you expect such a succesfull crowdfunding campaing and how was your response when you reached your goal in less than 24 hours?
No, this was beyond our expectations! We decided to let the campaign run for two months, expecting that it would take that long to reach our original goal.
Zora even suggested to lower the budget-goal. Despite the fact that we for sure need the amount of €25.000 to record the album and to mix and master it.
We felt so grateful when we reached this goal in less than 24 hours! We felt appreciated and it was a confirmation that fans loved to receive more of our music. That's why we do it.

This is going to be your first album instead of an EP. Was this a conscious decision?
That's true. We for sure had a reason. We were able to build a fanbase with the EP's. These fans make it possible for us to make a full length-album. Recording an album isn't cheap for sure. EP's and singles are a better option to bring out new music frequently.

The album is named 'The Cause of Shipwreck'. How did it get it's name and is it a concept-album?
It's not a conceptalbum. The title of the album is a sentence from one of the songs on the album. We usually use a song title with a slight alteration. Like we did with the previous three EP's.
For example:

Fractured Fairytales – Fractured Fairytale
We'd Rather Burn – I'd Rather Burn
Our Mortal Remains – Mortal Remains
Zora tried to apply this tot he new album, but it didn't felt right. Since it's our first full-length album, no longer an EP, Zora thought it would be a good idea to do it differently this time.
It was also an option to go for a 'self-titled' album, but that idea wasn't appealing.

Zora went through all the lyrics and ended up with "The Cause of Shipwreck". The Cause of Shipwreck is originating from the so called "alphabet of female vices" written by Antoninus of Florence.
She read this alphabet in the Malleus Maleficarum also known as The Witches' Hammer' (a manual for the persecution of witches). The Cause of Shipwreck stands for the letter N, Naufragii nutrix (causer of shipwreck).
We do like the idea of a concept album, but it is limiting for our creative process at the moment.
The new albums does have two songs who are related to eachother though…
What makes 'The Cause of Shipwreck' special for you?
We worked so long towards this album and we received so much love and appreciation from our fans already. So this made it already special before it's release (hoping we manage to meet our fans expectations, haha!).
We learned a lot from our previous EP's, so we were able to use our experience and knowledge to develop our style and sound even more for this debut-album. This development makes the debut-album extra special and exciting!
How was your experience on working on a full length album instead of an EP?
It isn't so different as working on an EP, beside the fact that it was twice as much work, haha! We were working with Joost van den Broek again.
We write our own songs and we take it to the pre-production, with Joost, when the sketch is ready. The ten songs will be screened on setup, structure and arrangement. After that it's time to record the songs in the studio. It's the same process as with our EP's. The only main difference with creating an EP is the fact that we need to take a look at our songs in it's entirety. How do they combine on the album? For example, is it short on a ballad or are there to many songs who start with vocals in the intro? If that's the case, we try to start a next song with guitars at the start of the song.
How do you see the future, regarding the choice of making an EP or album?
We haven't decided yet. We shall see how it goes and which is convenient. Maybe it's better to produce a single or EP so we can release new music sooner.
The Séance and videoclip
Tip: Watch the video of 'The Séance' first, before you continue reading this interview.
The song is about communicating with someone, who isn't really listening to you. As if you are a ghost to this person. This person doesn't even believe in ghosts, so basically you don't exist at all.
The lyrics of 'The Séance' is very interesting. There are two different ways of interpretation. The lyrics could be about a real ghost or the term 'ghosting'. What is the meaning of the song for you?
Thank you! Zora wrote the lyrics for 'The Séance' from her personal experience. The song is about communicating with someone who isn't really listening to you and makes you feel worthless and unnecessary.
As if you are a ghost and you are trying to be heard through a seance. Unfortunately the other person doesn't believe in these things. Basically, you are a ghost to this person, but this person doesn't believe in it, so you don't exist for this person at all!
I noticed that you direct and shoot your own videoclips. I am curious about the process of making a video. How do you do that?
Yes, that's true. We come up with ideas for our own videos. We work out the details, schedule and direct the whole videoproduction. We also edit most of our videos ourselves. This wasn't the case with 'The Séance', because we all had a role to play in the video itself. So we teamed up with Joshua Maldonado. Joshua also made the videos for 'Until Eternity', 'Arms of the Ocean' and 'Preserved Roses'.
Is there anyone among you who is a professional filmmaker?
No, there isn't. We build up quite some experience over the years, because we made most of the videos ourselves. We developed a lot of love for movie in the process, especially Zora, René, Robin and Bart kept themselves busy with the film productions.
Zora takes care of the creative part, the pre-production and edit of the videos. René en Robin dived into the gear, techniques and shooting video. Bart jumps in where ever is needed.
For the videos for this album we had a collaboration with Joshua Maldonad for 'The Séance' and 'Walking Over My Grave'.
Is the final product exactly as you imagined and prepared, or is it a surprise how it turns out?
The final product is always a surprise, but it's close to what we imagined.
Zora writes all the lyrics and when she does she has a clear image of how things will look like. Preparation is key in this process. If we prepare it well, the outcome will be close to our initial goal.
Unfortunately there is a little disadvantage for being so close and involved with the production, shooting and editing. We are not easily satisfied with the outcome and always look at the result with a critical eye.
Did you stumble upon any challenges while shooting the video for 'The Séance'? If so, how did you overcome or fix them?
For sure! The pandemic was a challenge and therefore the reason why our keyboardplayer, Ruben Wijga, isn't in the video. He lives in Norway and it would be irresponsible to travel tot he Netherlands. We did include Ruben's portrait in the video, so he was still a bit present.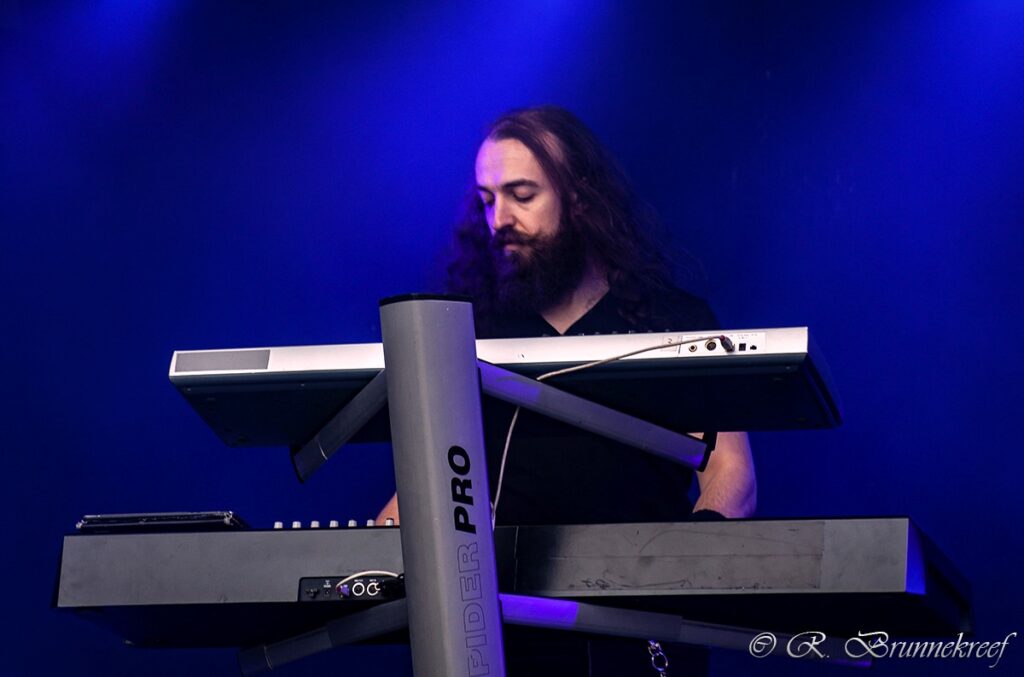 Do you have any fun bloopers to share with us?
Hmm, there weren't many bloopers this time, haha! The only thing what happened was during the videoshoot at night. We used a hazar (smoke machine). The hazer set the fire alarm off and would automatically alert the fire department. The owner of the building reached out to the fire department in time to let them know it was a false alarm and prevented that they came for nothing.
Deadly Diminuendo
What is the single 'Deadly Diminuendo' about?
Zora: I wrote 'Deadly Diminuendo' after I went to the Alps in August. I stayed at the foot of the Mont Blanc. The mountains were an inspiration for this song. I also just read the book 'Echo' by Thomas Olde Heuvelt. The story of this book also takes place in the Alps. It's a horrifying story about obsession and the primeval power of nature.
The videos of Jonna Jinton, where she uses the herding call technique (kulning) where also an inspiration.
Did it take much effort to pronounce 'Deadly Diminuendo'? It seems to be a potential tongue twister.
Zora: It is indeed a potential tongue twister. It went all well, luckily. I also didn't had any issues with it during the recordings. Deadly Diminuendo was the hardest song to record, but pronouncing the name wasn't causing any problems, haha!
Releases
Are there any more releases coming up, like singes or videos? What releases can we expect and can you give us a hint of what it would be?
Yes, for sure. We are still busy with videos, live performances and other amazing content! We have some nice things in store for you. Including a third single (that's still a secret).
Also, the fans will not stay empty handed after the release of the album. We have schedulded plenty more of nice moments.
One of the stretch-goals was a Dutch version of one of the new songs. Do you already have a song in mind and will it be doable to translate it from English to Dutch?
Zora: I did check all the lyrics for the ability to transform it to a Dutch song. There was only one song with potential. So this will be the one.
The transformation to a Dutch song isn't just simply translating it. It still has to sound good. You need to take the rhymes in consideration and it is important that it can be sung in the already excisting melody. It was tricky, but I think I succeeded!
The album will be released in less than a month. Are you ready?
Yeeeeesss, we are ready! It is incredibly exciting, but we also can't wait for the release!
Are you ready? 😉
Metalboys: For sure! We are already enthustiastic because of the releases of 'The Séance', 'Deadly Diminuendo' and 'Selkie'. They made us incredibly curious!
At Metalboys we do have an item that is called 'the table'. It's a picture of a table filled with albums of various artists. We share it on our Facebook and our followers are able to add a comment about the albums. Which albums inspire you as an artist or band and whould you put on this table?
Zora: 'Anna von Hauswolff – Singing from the Grave' and ofcourse the new album of 'Epica – Omega' are two albums who inspired me personally. I listened a lot tot hem.
To close this interview
Thank you for your time to answer these questions. I am looking forward tot he release of the new album!
The release of 'The Séance', 'Deadly Diminuendo' en 'Selkie' made me even more curious about the new album. Hopefully we will see the light at the end of the tunnel of this pandemic, so you are able to perform live again and fans can visit your shows again.
I wish you the best and have loads of fun with the release of the new album!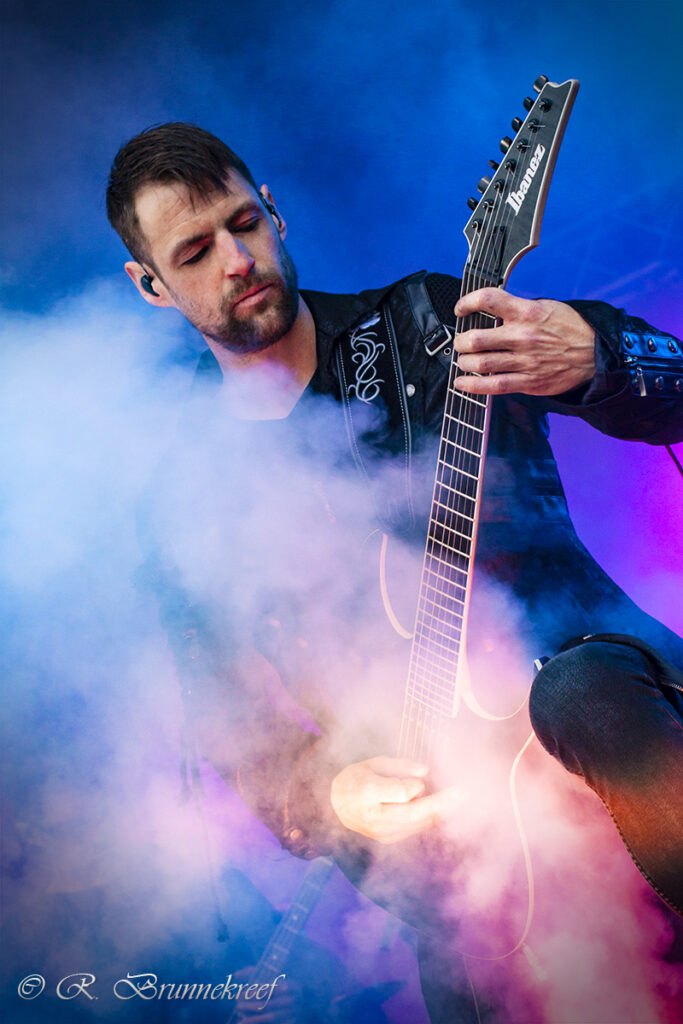 Videoclip 'Selkie'.
Order Blackbriar music and merchandise: https://store.blackbriarmusic.com/
Follow Blackbriar:
Facebook: www.facebook.com/blackbriarmusic
Instagram: www.instagram.com/blackbriarmusic
Website: www.blackbriarmusic.com
Youtube: https://www.youtube.com/user/blackbriarmusic
Twitter: https://twitter.com/blackbriarmusic
Spotify: https://open.spotify.com/artist/6PXQUX3BYTSVj7LcvviOmI
Patreon: http://patreon.com/zoracock
Videoclip: Walking Over My Grave